....Oh how I have again missed having time and create and even though I did take a fun little card class on Sunday, today is the first time I have had any free time to share some new cards. If you are here to see the cards only, you'll want to skip the next few paragraphs, which are an update on my Mom, who is currently hospitalized following a sudden illness which lead to her having open heart surgery. It's been quite a crazy time and I post updates on my blog for those who know her and my family.
NOTE: To see my cards only, please scroll down a few paragraphs to the section where it say's My Newest Card Creations! Thank you!!
On a happy note, my Mom has now been transferred to Rehab, but that did not go nearly as smooth and we all would have hoped, and when I left last night -- I felt like I was abandoning her in an awful place --- not at all a good feeling. Today, we had already planned that I would stay home, start to get ready for my trip and catch up on my life and while I have talked to her, I will be happier to see her tomorrow and hope that her first full day at Rehab went well.
After all the "
Hurry Up and Wait"
time we have had waiting for my Mom to be transferred to a Rehab Bed, it not sadly NOT a shock to find out, that her transfer would not be a morning event and was planned for 2 pm yesterday. I took the morning time to catch up here and heading to the hospital by noon. We sat and patiently waited and just about 1:45, I felt confident to pack her up and be ready. Then, shortly after 2 pm her nurse came in and said it was time to go and called for a transporter. She then disconnected her from the
telemetry
unit in her room and connected her to a portable unit, for the transfer. The wheelchair arrived and we said out goodbye's and thanks to the staff and we on our way. In a matter of minutes she was her new bed, in a really nice, large sunny room with a very sweet roommate. I noticed that she was not immediately put back on telemetry, but figured that was coming and eventually after she was set up with an aide, asked her about that. That's when things went downhill and we found out a good hour of so later, that she did indeed need to be monitored and would need to be moved to yet another floor and another bed. ALL this on top of waiting for days for 'this' bed, it made me wonder, how many days we had waited only to find out, there are NOT any Telemetry beds on the 5th floor??? Thankfully, there was a bed down on the 3rd floor that's where she needed to be. I was NOT a happy daughter and took it upon myself to call over to the surgical unit to check on this. After paging her surgeon, they called me back and told me that YES, she DID indeed need to be on Telemetry and that we needed to get her moved and back on the monitors ASAP. She told me she would call the nurse, but for me to check too! Talk about having to be your OWN health advocate...it's VITAL and even more so if you have older parents! I went to the nurses station to tell her nurse, Kathy, who I happily found already on the phone finding her new bed! Of course, by now, it was almost dinner time and Mom was getting hungry and eating is vital to keep her energy up. UGH!! I was and am still very UPSET at how this all happened, and what could have happened had I not been there to intervene? It's scary and again a reason, to always ask questions and make sure you totally understand what is being done to you at the hospital. It could be a matter of life and death! Sadly, as good as my Mom is, I know she would never had caught this and would have assumed she no longer needed to be monitored...! Yikes! .
Long story short, she was transferred and without monitoring for about 3 hours, which made her new RN, very unhappy, but once everyone was then connected her heart was looking great and that was a big relief. Her oxygen level was done a bit, but a few deep breaths, brought that up, so that too was okay! Then to find out they to start yet another IV, despite the fact, one had been removed just before the transfer??? Luckily, this one went well and this IV Nurse was awesome and got it done on the second try!! Yay!! I started unpacking and got really bummed out, when I had the time to look around and see, just how messy, dirty and small this new room was. Her phone was missing, the closet had broken handles, there was trash all other the bathroom floor and an empty IV bag in the sink along with used surgical gloves, on the floor too? There was not "clean" looking place to put any of her bathroom things, so I kept them packed in a bag and put them in a drawer for her. She had no bedside table and was not at all comfy in the bed, but we did get her pillows and with help, we were able to get her propped up better and much more relaxed. The Nurse even found a bedside table, it was not great, kind of broken and wobbly, but certainly better than nothing and it gave her a place to put her glasses and water, and dinner, which was now long overdue?
That's we when found out, her order was lost, no surprise there and they then randomly brought her a meal, she would never eat and was not part of her diet? Geesh? We quickly had them order her a simply sandwich and I went to the lobby coffee shop and bought her some extra bottled water, as they don't have it on the floor and she can't drink their local water - Yuk!
Needless to say, I was very very sad, leaving and also dreaded the night drive home in the bitter cold. The parking lot was also not lit very well, except those spaces right next to the building which is not near where I was. I was honestly kind of concerned about walking alone to my car and kept kept my keys right in my hand and could not wait to be safely in my car. Once I was there, I felt better -- locked my doors and headed home. I can only HOPE, I am never there alone at night again, as it was NOT a comfy feeling and I am surprised at how dark the lot was? I also had a feeling she would not be sleeping well as her roommate needed extra care and had hearing issues (she wore a hearing aid), but I had already noticed she had her TV quite loud and when she talked on the phone, she spoke loudly too. No fault of hers, of course, but not the type of environment that was good for my Mom, who doesn't sleep so well and yet, needs her rest. It was a big change from the wonderful private room she has been in for the last 19 days. I feel like I was leaving her in a old run down nursing home and hated it. I hope I never ever ever had to put her in any type of long term care facility and also HOPE no one puts me in one either...it seems dreadful.
The good news is that this morning, even though she slept lousy, she did well in her first round of PT and said the room had now been cleaned and things were better. She knew how upset I was and I knew last night, she just wanted to go HOME and to be honest, I really wanted to take her home and not leave her there alone in that awful place. I hated it and am not sure, I'll ever be thrilled! Now, I know she'll fight like hell to get out of this place and that's all good, since she is feeling so much better! I can NOT wait for her to be home and I'm glad her doctor was there this morning to apologize for the awful confusion that had happened last night. Wish someone would take the time to call ME too, but as long as they apologized to her, that's most important. She did say, he mentioned that some "heads would be rolling today"....! Good to know, as I would never want this to happen to anyone and hopefully, it's a mistake that won't be repeated!! I do HOPE when I am there tomorrow that I can find out, how this did happen and if we waited all weekend for the wrong room?
***My Newest Card Creations!!***
And moving on to even happier things I have a selection of new cards to share. The first three are those that I created in the
Northwoods Stamp Class
on Sunday and the other two were both inpsired by new challenges, that I really had fun working on today!!
And this one, my personal favorite...
I even bought this stamp, so that I can make more like this!!
My first card today was inspired by last week's
Cas(E) the Sketch challenge
, which I am finally sitting down to do today. It may be to late to enter, but I really enjoy this new challenge and have a lot of fun trying to created my own cards, based on the sketch. Today, I made two and this first one is my favorite and the one I hope to submit!!
OOPS!! Silly me, I was TOO late to get my cards posted on time to submit to this week's Cas(E) challenge, but happy to submit to this week's Greeting Card Challenge over at
"The Outlawz".
Hope to see you there too!
My final card today was inspired by a brand new challenge that I really loved the idea. It's called MUSE, and it's a fun type of challenge card club. You can find all the
details
over at the new blog
HERE
!! I am also added a copy of this week's Muse Card and and also sharing my new badge, which you'll also see on my side-bar --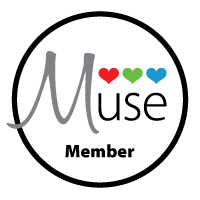 Challenge 1 - Muse Card
Isn't this a great card -- I loved it!!
My card
Being that I am such a huge fan of
Hero Arts
, I knew that I wanted to use some Hero Stamp, as did Amy on her card. I picked this cute little yellow flower and sentiment, both from the same clear set -
CL580 - Merci Bouquet.
I also used a lot of the same colors that Amy used on her card, although my images and papers are different. I also love how she added pearls, and I used black pearls to accent my card. The patterned papers I used on my card are from the
"Miss Caroline"
set by
My Mind's Eye
and are also similar in color to Amy's. I colored my image with my Copics and then added a second flower on top , which is popped up on foam tape. I hope you like it and hope you'll check out this fun new challenge! And while you are there, be sure to check out all the wonderful cards that have already been submitted. This
one
by
Meg
, is one of my favorites, as
this beauty
by
Kay
!!
And that's it for today my friends -- thank you for stopping by and extra special thanks to everyone who has been so sweet and caring during my Mom's surgery! It really has meant so much to me to hear from you and read you wonderful caring comments!! Big HUGS!!!