....I can't believe how busy I have been and how behind I am on my blog. When I started my post and the some of the cards I'm sharing it was early August, and where we are now on the 20th!! WOW!! Talk about time flying by....it's going MUCH to fast for me.
When I last posted I had shared a few quick pictures of the cards I have been making to support
"Little Paws Dachshund Rescue"
and today I'm back to share some more along with a few new cards I put together for some challenges too.
I'm also very happy and excited to let everyone know that I finally find my missing set of Copics, which I have spent almost two weeks searching for. And of course, with my luck I found them yesterday, about 3 hours after I had finally given up and ordered a brand new set!! So now, I will have two and one will be my Class set and the only set I will travel with. The second will be my cherished set, because I also bought them with money I was given for my Birthday, which was on Sunday! As many of you know I also share my Birthday with my Hubby, although he is 3 years older and we wont' even talk about ages, as I'm now longer loving my "number". I guess as you get older, you like the numbers less and less!! We are not the type who have a "big event" for our birthday, we simply enjoy a night out with friends and that's still upcoming and something we have to look forward too!!
When I went to work on his card, I was lost for ideas....so I headed right over to
Pinterest
, my favorite place for Inspiration. I typed
"Male Birthday Cards"
into the search box and was amazed as how much that collection has grown, since I first joined
Pinterest
in the very early stages, when it was brand new. I'm so pleased with it and hope it says as popular as it it.
This
is the card that I really like and I had wanted something with lots of circles and color, so it was perfect and I LOVED the design. It did not link back to a blog, but in looking closely at the Watermark, it appears that it was designed by
Jackie Pedro
and I give her all the credit!! Love it!
Inspiration Card
My Card
I am not much of a yellow fan, but I sure do love aqua and always loves black and white, so I knew I could use those along with some cool orange scraps and make my own little take on her idea. I did use different papers and sizes and my own pattern for the circles, but as you can see it's very much based on Jackie's design!! Thank you Jackie -- I am always stumped on male cards and having an idea or even a sketch is a huge bonus for me, when I'm lacking any Mojo!!
My main goal lately has been to work on cards for the
Fundraiser
and also continue to work on packing up items to donate to the huge yard sale that is also being done to raise funds for this wonderful
Rescue
. I have already packed up about 5 boxes of craft supplies, including my Baby Bug Cricut, lots of Rubber and Clear Stamp, ink pads, papers and so much more! Fabre, who is the gal hosting this event, is even going to come up and pick up all my donations along with the cards, so I have about another week to keep going and hope this will be a huge success!!
Here are a few more pics of the cards I have put together. I've found some cute new "clipart" at Etsy and continue to be on the search for more "Dachshund" images. If you know of any I can purchase online, please let me know. I also have a few stamp sets and will also use some other images of cute puppies and such. My other goal is to make more Thank You and Sympathy cards, as they are always needed! Anything that doesn't sell at the yard sale, will also be added to the Little Paws new Etsy Store and an eBay store opening soon!
And I have a few more cards to share including this next one, which I just finished up today for a little challenge that Barb put together over the the
Hero Arts Flickr Grou
p. She challenged us all to create a card using Hero products (of course) and to use the color Gray along with another color. I chose Pink. We were also allowed to add Neutrals (white, kraft and black). I started with this wonderful floral background stamp (
Everything Flower
), which I inked up with with two of my
Hero Shadow Inks
-- Bubblegum and Soft Granite! I stamped it directly to a piece of white cardstock and then used the "paint dots" from the
"Not Perfect"
clear set to color in some of the flowers, in the contrasting color, (Pink or Gray). I then added a gray strip for my sentiment and chose to make it a Sympathy Card, which I heat embossed in White. I added that across the card, along with two strips of pink cardstock and than added it all to a Hero Hero Gray (Charcoal) card that ,made from their these
laying papers
.
And last, but not least, I have one more card that I created today for the current challenge over at the
Muse Card Club
. I am also sharing a copy of our "Muse" card, which I think is another wonderful creation by Marion.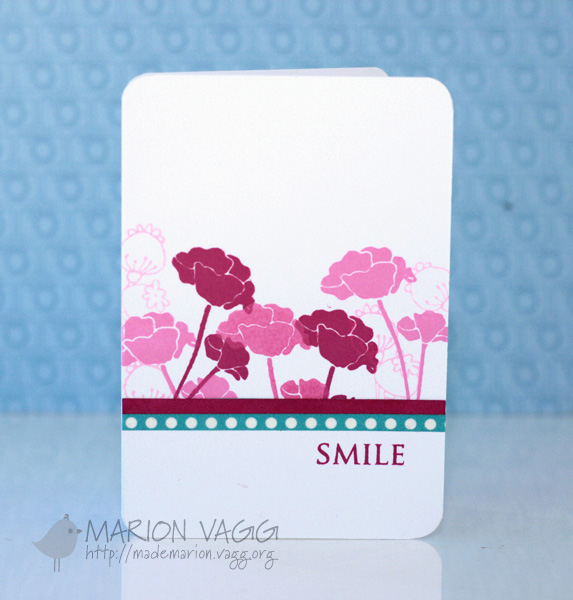 For this card I started by Masking off the bottom on the card and then took this
Hero Stamp - Jumping Flowers,
which I double inked in two amazing Pink inks. The first being the darker pink which is an oldie I have from Colorbox and the second pink is a gorgeous
Angel Pink
from the amazing new
Memento Luxe Inks
, which I absolutely LOVE!! I have bought all my favorite colors and think this is one of the best Pigment Inks EVER!! You can find them at
Oozak
for a fabulous price, not to mention Rusty's super same day shipping and excellent customer service!! A store I love for value and service! If you are like me and also love
Copics
, this is where I now buy all my
Refills and Sketch Marker
s--his prices can not be beat and I love that your order ships the very same day --
if you order before 3PM!
This is also where I bought my "
Anniversary Set
", the one that had been missing!!
And that's it for today! I do have more cute little "Doxie" cards done, but some will have to be a surprise!! Tomorrow, I hope to work on them again and also finish package up goodies for the huge Yard Sale! I really hope it's a big success and brings in lots of money for "Little Paws". As you must know by now, I'm a huge fan of Dachshunds and own two of my own. Scout and Skye who are my little furbaby loves!! It's actually time for me to take them out for a walk and that's where I'm going now!! Have a great evening and as always --
Happy Crafting!